Mojave MA-D Review - The Best Dynamic Microphone for Vocalists - The Smooth SM58 Alternative
Feb 06, 2023
Advertised as "smoother than the competition," it's a wonder whether the Mojave MA-D dynamic microphone is all it's chalked up to be.
This past year, the team at the boutique Los Angeles-based Mojave Audio Company announced their first-ever dynamic handheld microphone, promising quality and affordability. Designed by the iconic David Royer himself, the microphone was made with versatility in mind, proving equally useful in a wide range of live or studio recording situations.
With a smooth frequency response, high SPL capabilities, a comfortable handheld design, and an internal windscreen for reduced plosives and handling noise, you get a lot of value for the affordable price of $160.
Of course, you're here because you want the gritty details, and we want to provide them.
Let's dive in and explore all there is to know about the Mojave MA-D dynamic microphone!
Robert Lunte

Thoughts for The Mojave MA-D:
I LOVE IT! I have always preferred handheld dynamic mics that are "boomy" and warm, but this is a very hard thing to find. Most mics are looking to compete with the Shure SM58 and this means, there are a lot of SM58 Clones out there. That is fine, but, in a way it is boring and most people already have a mic that sounds like the SM58.
It is refreshing for a microphone company to come out and say, "No, we are not going to be like everyone else. We want to do something different. We are going to stick to our guns and do what we want to do and give singers an alternative". Mojave has done exactly this.
I own about 60+ microphones. I collect them. I am honest when I say, the Mojave MA-D is one of my top 5 handhelds I own. At the present moment, it is all I am using because I cant get enough of that smooth sound color. LOVE IT!!!!!!
The Specs:
Microphone Type

- Dynamic
Sensitivity

- 53 dB Re 1V/pa

Frequency Response

- +/- 2.5 dB 60-10,000 Hz, + 2 dB-6 dB 30-15,000 Hz

Max SPL

- Greater than 160dB @ 1kHz
Impedance

- 600 Ohms @ 1kHz
Connector

- Three-Pin XLR (Male)
Who Is Mojave?
Mojave Audio is an American audio company that started in a garage back in 1985, thanks to the expertise and craftsmanship of the legendary, technical Grammy award-winning David Royer, who is probably most famous for his Royer ribbon microphones.
The beauty of Mojave's microphones is that they offer affordability without any compromise, and the MA-D is an excellent example of that.
Head over to just about any online gear forum where engineers are discussing Mojave microphones, and you'll likely hear about Mojave's high-end tube microphones or FET condensers. In fact, the company originally caught my eye with its Sony C37 clone, which was built with painstaking recreation.
So, naturally, when I found out they developed a dynamic microphone, I was enticed.
What's In the Box?
First off, the microphone comes in a zippered storage bag for added protection and easy transport. Y
Secondly, you get a microphone stand adapter and an integrated pneumatic shock mount.
All in all, Mojave kept it pretty simple, putting the most time and effort into the actual design of the microphone rather than accessories.
The Design
We don't have a single complaint about the design, which features a sleek, all-metal body and grille. It's solid enough to take a beating during energetic live performances, though feels comfortable enough in hand with its ergonomic size and shape to use for hours on end without feeling fatigued.
Learn more about some of our favorite microphones at The Vocalist Studio.
The Sound
The sound of the Mojave MA-D can best be described as bright yet smooth. In many ways, it sits at the same caliber as other popular handheld microphones, such as the Neumann KMS 105 and the Shure Beta 87a, though for considerably less money.
With such a smooth frequency response, you can add tons of gain without triggering any feedback. It also comes with a uniform cardioid polar pattern, meaning it only focuses on the sound source right in front of it rather than sounds in the surrounding space. This makes it an excellent choice for live recording situations where the full band is captured in a single room.
After some experience with the microphone, I'm really beginning to enjoy the warmth and clarity I can pull from it. Compared to other similar microphones, you get a lot more rejection from other instruments in live applications.
It's truly the perfect microphone for any touring artist who wants to take a step up from their typical dynamic microphone.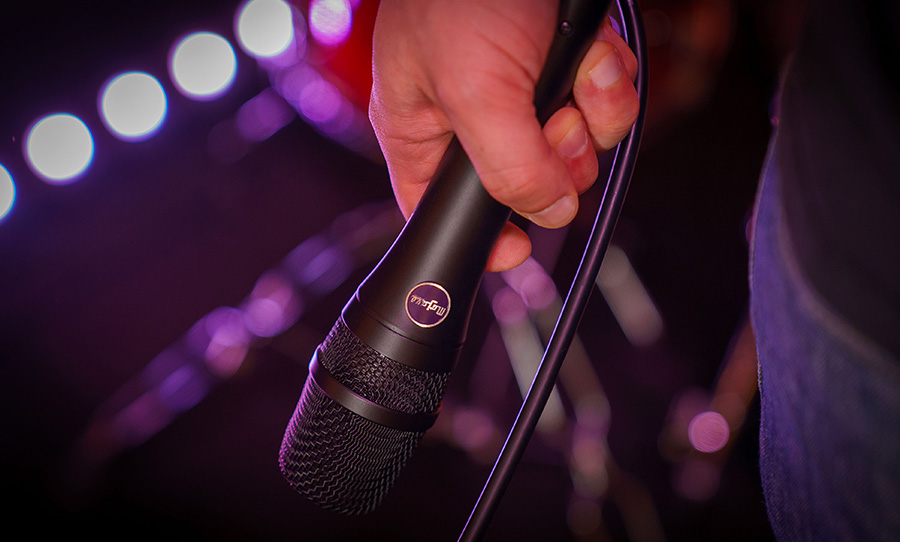 As far as the frequency response you can expect from this microphone, the treble and air frequencies are incredibly dominant. However, the mic handles the boost in the top end really well, and these frequencies never come across as sharp or biting.
Also, the plosive of rejection is a standout feature. I've used many dynamic microphones throughout my time as an engineer, most of which don't have the capabilities to remove unwanted air, so I love that the Mojave MA-D has this feature built-in.
If you're recording at home or in an untreated space, you'll enjoy the noise rejection feature. It reduces the sound of reverberation in the room and background noises like air conditioners or cars passing by.
Plus, if you record multiple instruments at home or in your studio, such as acoustic guitar, electric guitar, or piano, the microphone works just as well on those. However, if you're recording overdriven electric guitar with this microphone, you may need to roll off some of the top-end, so it's not so fizzy, but that's the only disadvantage I can think of.
A Great Microphone Needs a Great Singer:
BTW, Beyond a great microphone, getting a great vocal recording is all about knowing how to sing properly. Check out what many call the best and most effective singing course on the market today to learn what steps YOU can take to develop the voice you've always dreamed of.
Free Vocal Mini-Course
🗝 Discover the one singing skill that will unlock a new singing future for you.
🗝 Never hear "Sorry, it's not what we're looking for." at an audition ever again.
🗝 Learn the simple perspective shift you can make right now that will change everything about how you practice singing.
We hate SPAM. We will never sell your information, for any reason.